¡Say no to tortoiseshell!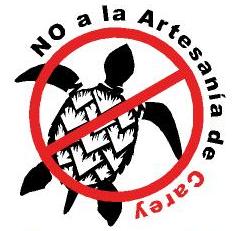 Campaign against trade of hawksbill turtle shell (carey)
The sale of tortoiseshell (carey) items in the Dominican Republic is contributing to their extinction. Grupo Jaragua, with support from Humane Society International, in coordination with the Ministry of the Environment and Natural Resources and other institutions is implementing a campaign to educate Dominican Republic's society and international visitors about this problem.
Learn about this issue
(If you click on top of the photos you can view them at a higher resolution. Then press your browser's "back" button to return to this page)

In the coastal zone of our island inhabits the hawksbill sea turtle (carey in Spanish), one of the seven sea turtle species in the world. Generally, it is found near coral reef areas. It characterized by its bird-like beak, and the beautiful brown and yellow pattern on its shell.

In our shore there are feeding as well as nesting sites for hawksbills. Mature females come up to sandy beaches to lay their eggs. When the eggs hatch, they go back to the water.

...Hawksbills used to be relatively common until not very long ago in our coastal areas. However, overharvesting of these turtles on the beach and in the water for their meat, eggs and shell have almost made it dissapear from many sites. Also, often times they are trapped (accidentally)in fishing nets set on their habitats.

Likewise, in the rest of the world, their status is critical. Because of this, their sale is prohibited by the CITES Convention, which regulates the international trade of flora and fauna. In addition, it has been listed as a critically endangered (CR) species under the International Union for the Conservation of Nature's Red List (IUCN)..

Due to their critical status, their capture and use is prohibited under Dominican Law (Fisheries Law (#307-04, art. 46). But tthe law is not enforced and the sale of their eggs, meat and shell continue.
| | |
| --- | --- |
| The sale of tortoiseshell affects not just hawksbills in the Dominican Republic, but in all the Caribbean. Scientific studies have shown that these turtles make important migrations (at times greater than one thousand kilometers) from their natal beach to their feeding areas. | Track (followed by satellite) of a hawksbill turtle that nested in Bonnaire ("Nautila") and returned to its nesting area in northern Dominican Rep. in 2003. Courtesy of Cortesía de R.van Dam/ Sea Turtle Conservation Bonnaire. |

Despite this, it is still possible to find tortoiseshell for sale in the DR. It is openly offered to the public in many shops and it is even advertised in signs and presentation cards. In Santo Domingo you just have to walk around the gift shops of Mercado Modelo or the Colonial City area.

Tortoiseshell items are especially sold in the tourist souvenir shops (locally known as gift shops) of Santo Dominco and the main tourist destinations in the country. Government authorities and most of the public watches this with indifference.

If this trade continues, Caribbean hawksbills might disappear. If you want to help save them from extinction, as well as preserve their role in the coral reef ecosystem, help us. Here is what you can do:
As a consumer: 1) Do no buy any item made from tortoiseshell, nor hawksbill meat or eggs. 2) Boicott stores that sell tortoiseshell. 3) Report to us stores and that sell carey. We have compiled a preliminary list to the Ministry of the Environment, we are hoping they act upon it. 4) Spread the word. Help us take this message to as many people as possible, explaining them how this trade affects a critically endangered species.
As a seller: 1) Do not sell tortoiseshell. It is a shameful trade that violates national and international laws. Also, the items might be confiscated by foreign autorities as clients bring them to other countries. 2) Provide us with information about this craft, artisans and middle persons. We would like to learn more about this trade so we can better address this problem.
Educational materials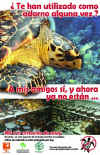 Download the campaign flyer/ad (right click over the image) and help us spread the word! Place it in a visible place at your university, school or workplace... send it over email.

Download here the campaign logo. Excelent for stickers, pins or t-shirts...

Download a Powerpoint presentation (.ppt) based on this page.

Download a hawksbill "infography" (in Spanish) done by Ana María Lora of "El Universal" newspaper from Venezuela.
Links of interest:
Sea turtle nesting DR web page